How Australian financial services leaders are deploying AI
Around the world, financial institutions are racing to improve their ability to deliver better customer experiences, manage risk, re-invent regulatory compliance, automate business processes and more. In almost every case, a key part of the solution is to deploy or scale up the use of artificial intelligence (AI) technologies to introduce powerful new capabilities.
But what's happening right now in Australia? How is this transformative digital technology helping banks, insurers and wealth managers in these critical areas? What role will AI play in new territory such as open banking and the spread of real-time payments? And what ethical, data privacy, compliance and internal issues arise as firms deploy AI solutions?
These questions and more are answered in our new white paper Digitising Australian financial services with AI.
Insights from market leaders
Microsoft spoke to leaders at Australia's major institutions, including the Commonwealth Bank of Australia, Perpetual Corporate Trust and Westpac. We also spoke to, and reviewed the work being done by, new entrants and local technology specialists such as Look Who's Charging, Moula, Resonate Solutions, Search365 and Simple KYC.
The result is a unique insight into how AI is being deployed in Australia, how experts are thinking about the technology and what steps organisations can take to move forward.
Growing adoption
A key finding in the paper is that AI is already being widely deployed in the Australian financial services sector, where some organisations are significantly scaling up their implementations.
One bank has identified more than 30 ways AI is being used within its operations, from long‑running optical character recognition systems to new techniques for analysing large data sets.
Another is running 200 machine learning models to understand customer behaviours and needs in real time, to provide highly personalised and responsive services.
Moula, a new entrant in the lending segment is using AI to slash the time it takes to assess loans from two weeks to two days. Search365, a search technology specialist is providing AI tools to help firms automate labour-intensive processes and prevent fraud. Perpetual, a 130-year-old institution is using AI to help clients to learn more from a massive pool of Australian mortgage data.
Six steps to success
Many financial services organisations are interested in AI and convinced it has an important role to play, but are still yet to deploy it in production systems at scale. Here, we discuss six practical steps organisations can take to unlock AI's potential.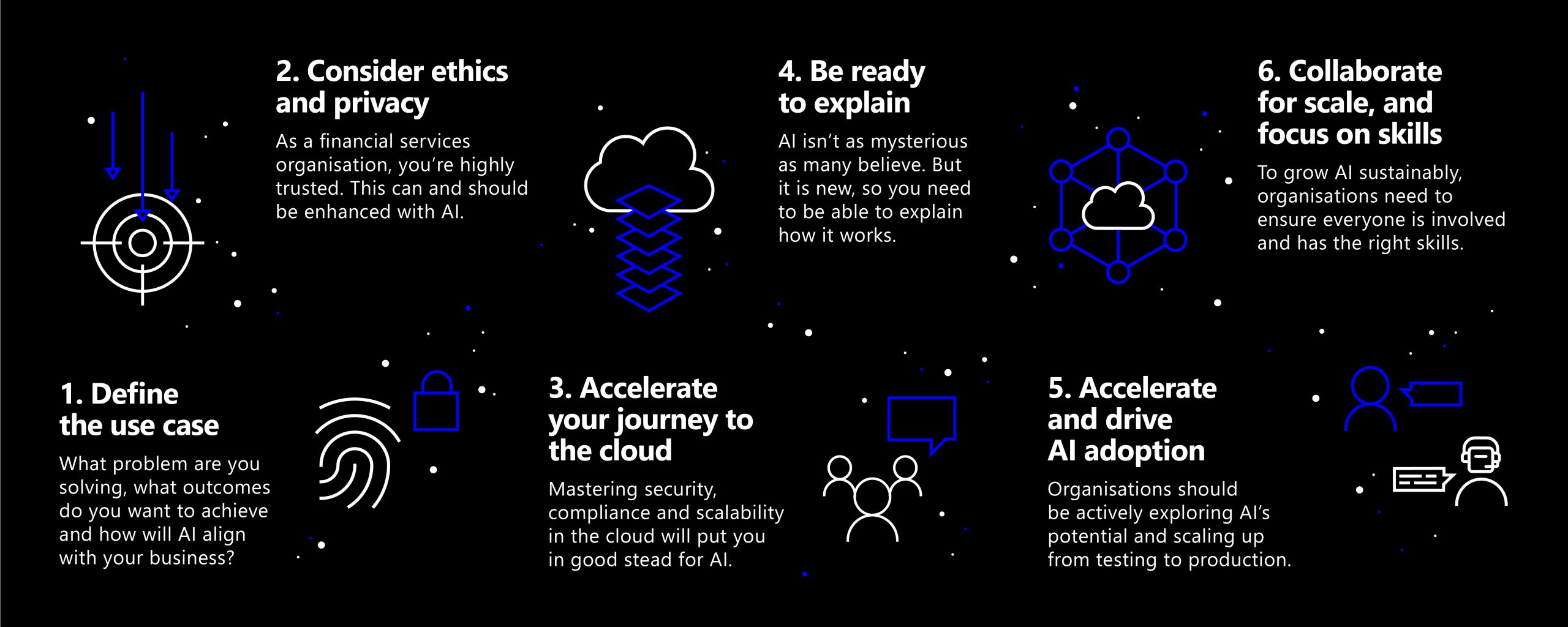 Start today
Yet there are also many Australian financial firms that are yet to put AI-powered systems into full-scale production or even to assess how AI systems could be used in their business. The message from the experts is that it's time to get moving.
"I think the vast majority of the market still underestimates the actual capability of the deployable technology," Gavin Keeley from Search365 comments in the white paper. "Every time we've done a pilot the organisation has been overwhelmed by the capabilities."
"This is not a five-year plan," adds Deborah Young from The RegTech Association. "You need to start today. Otherwise, you're seriously going to get left behind."
Find out more about Microsoft's AI solutions or download the whitepaper here.
Categorised in: Financial Services
This post was written by Microsoft Australia
Related content